Sr Media Analyst - Target India
Apply Now
Location: Target Corporation India Pvt. Ltd., Bangalore, Karnataka, India, 560045;
job id: R0000181103
job family: Digital Marketing
schedule: Full time
About us:
Target is an iconic brand, a Fortune 50 company and one of America's leading retailers. Fueling the continued success of one of the world's most beloved and recognized brands is a distinctly capable, creative and innovative Marketing organization. Target Marketing is well known for inspiring and surprising guests, and we pride ourselves on connecting them to the products and experiences they expect and deserve from Target. We study our guests to discover new needs and insights, and then craft every interaction to build brand love. We are market experts who insist on a clear and cohesive understanding of our business objectives, guest segments and behaviors, strategies and tactics, overcoming obstacles and measuring success. Our commitment to partnering both internally and with external agencies gives us a wide range of capabilities, from award-winning creative work to exciting and unique promotional marketing. Leveraging our collective assets and fostering a healthy, supportive and open team culture, we deliver a holistically gratifying experience that guests can only get at Target.
Role Description:
As a Sr.Reporting & Insight Analyst, you will report, track, and provide analysis for the key accounts/vendors and Target Media Network (TMN) campaigns. Reporting is an evolving LOB and our measurement teams are constantly working on innovating new methodologies; you'll need to be a team player, learn quickly and share the knowledge with the team/peers by conducting trainings, creating documentation. In addition to generate recap reports, the Sr. Reporting & Insights Analyst, carries a mind-set of asking/understanding the why behind why. One needs to understand the context of various media metrics, combine them with the learnings obtained from the historical data for campaign/vendor/products and derive actionable insights.
The daily activities would include analysing and summarizing large amounts of (disparate) data to identify trends and conduct root cause analysis. Act as the data expert, leading the way in data discovery, both proactively and by request, to identify key insights and trends. Identifying the opportunities of automations and work with the Enterprise products teams to automate processes. One must be keen to learn in-depth implementation of various analytics, measurement tools at Target and devise best practices to utilize/provide suggestions to improve them. Target has developed cutting-edge in-house leading methodologies to track and generate accurate performance results. The core competency of this role is campaign's media metrics analysis and flight recap reporting. You'll need to partner with measurement, media strategy and operations to understand the objective of campaigns and how they were optimized. This also includes understanding the Target's vendor profiles and their support tiers to cater/help peers cater to the specific expectations of the Sales team and vendors. Carry out quantitative and qualitative research to produce media evaluation reports. These are then used to evaluate/improve the effectiveness of marketing campaigns.
Responsibilities:
Connect with the partner teams/stakeholders in US and in India to help deliver the recaps with the meaningful insights
Work closely with the strategy, operations and optimizations team; generate reports and be able to translate the campaign metrics into a media journey; then work backwards on identifying/feeding the suggestions for future strategies
generate mid-flight recap reports and provide the recommendations for live optimizations
Combining the individual recaps of the vendor to generate Quarterly/annual recaps and create category level insights
Work with the cross functional teams and identify the areas of automation
Connect with the data teams and provide suggestions in the areas of data modelling/predictive data modelling for predictive analysis   
Stay updated with the over-all trend and guest behavior in the retail industry and being able to relate the results to derive market level insights
Ensure data accuracy, as well as reporting output quality control. Troubleshoot and identify root causes for data inaccuracy- manual v/s system errors
Identify, select and extract relevant data from various internal and external sources
Independently work on raw data sets into information fit for analysis.
Proactively recommend innovative ideas and opportunities
About You:
Minimum 7 years of experience in the domain.
Bachelor's degree in a quantitative field (computer science, statistics or related)
Team player and keen to share knowledge with the peers, contributes/respects own ideas and those of others equally
Strong analytical and modeling skills, proficient at conceptualizing and implementing solutions to business problems.
Experience in developing campaign performance insights
Takes full accountability of tasks and focusses on solving problems, eradicate roadblocks
Adaptable to changes, open to learn new skill sets and work consciously towards it
Continuous drive to improve performance by deriving actionable insight from complex datasets.
Ability to judge and quantify results of advertising (i.e., understand true value of ROI, impact of results, compare actual results to benchmarks) and know what to do with this information (how to optimize placements, make recommendations etc.)
Exceptional attention to detail, organizational and analytical skills. Ability to multi-task and work within a rapidly changing environment.
Genuine curiosity with how things work; motivated, self-starter
Strong communication skills and desire to work in cross-functional groups; strong writing skills
Exceptional understanding of the digital measurement space, analytics tools/pixels  
Expert in Microsoft Excel, DOMO, Tableau, Adobe Site Catalyst
Knowledge of ad serving, Ad Networks and overall landscape required. Familiar with reporting dimensions and metrics of various ad/reporting servers- DFP, DCM, FB ad manager, Criteo etc.
Benefits
Eligible team members will receive one of the best earnings packages anywhere, including competitive pay, all-around insurance coverage, 401(k), flexible scheduling, training and development and many other perks and benefits. Target is an Equal Employment Opportunity Employer and is a drug-free workplace.
About Target®
Expect the Best. At Target, we have a vision: to become the best – the best culture and brand, the best place for growth and the company with the best reputation. We offer an inclusive, collaborative and energetic work environment that rewards those who perform. We deliver engaging, innovative and on-trend experiences for our team members and our guests. We invest in our team members' futures by developing leaders and providing a breadth of opportunities for professional development. It takes the best to become the best, and we are committed to building a team that does the right thing for our guests, shareholders, team members and communities.
Minneapolis-based Target Corporation serves guests at stores nationwide and at Target.com. Target is committed to providing a fun and convenient shopping experience with access to unique and highly differentiated products at affordable prices. Since 1946, the corporation has given 5 percent of its income through community grants and programs like Take Charge of Education®.
Apply Now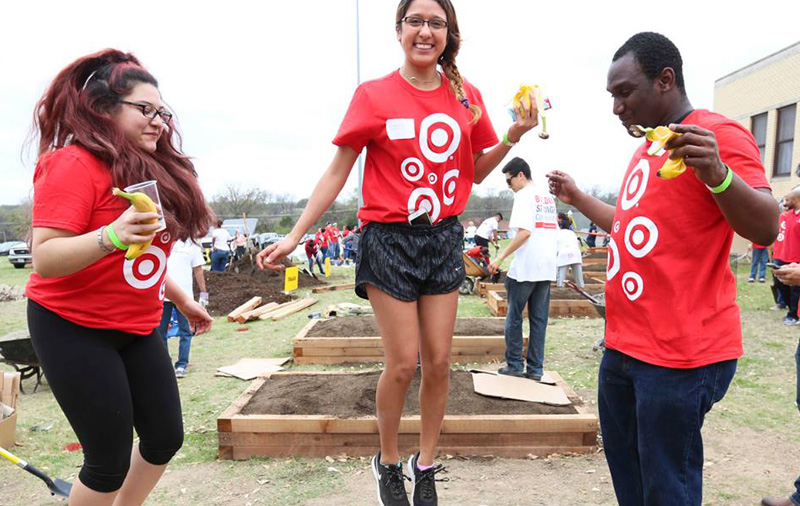 culture
What's it like to work here? We're asked that a lot. Target respects and values the individuality of all team members and guests—and we have lots of fun in all that we do.
experience our culture